ABOUT M.E.S SCHOOL
CHAIRMAN'S MESSAGE
SECRETARY'S DESK
PRINCIPAL'S MESSAGE
MONTESSORI PRESCHOOL
RULES AND REGULATIONS
CO-CURRICULAR ACTIVITIES
SCHOOL UNIFORM
PTA MANAGEMENT
WELCOME TO M.E.S CENTRAL SCHOOL PUTHANATHANI "To shed the light of knowledge is the only way to lead a society in to substantial progress".Bearing this acute fact in mind, the visionaries urged to seek out a remedy for uplifting the society. There, the Puthanathani MES central school came in to existence. The school was started in a rented building in 1994 at Puthanathani, later shifted to own building at Poovanchina, a place graced by the heavenly touch; enchanting and fascinating with natural beauty, 1.5kmaway from the national highway.
M.E.S CENTRAL SCHOOL PUTHANATHANI
The extensive and exciting new buildings are almost finished and they provide us with the perfect facilities to achieve our mission of enabling our children to become outstanding lifelong learner with freedom to be creative, the enterprise to initiate the ability cope with adversity. This is the perfect grounding for next stage of education and is the result of invaluable dedication of vigorous and vital hands behind this great venture. The school is affiliated to the CBSE, Delhi, up to 12th standard. It is gratifying to mention that the MES Puthanathani unit could stretch its hands to the lowest rung of society to find their shelter and provide other financial aids.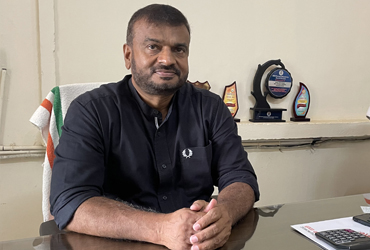 CHAIRMAN'S MESSAGE
As the Chairman of this educational institution I am highly elated to exchange my thoughts with you. It is the venture of Senior Secondary MES Central School Puthanathani to make the scholastic life, a smooth ride full of enjoyment and discovery.from friends and well wishers, the hard work of staff, students and parents and above all, the grace of God, made us to conquire these heights.
It is difficult to reap a good harvest unless we have made adequate preparation for it. In the same way, we cannot hope that our children will do well in life, unless we sow the seed now and prepare them by giving them a good education. We must sow the correct thoughts in adequate proportions so as to bring forth the desired results. For that we are highly committed in almost all areas and sectors of education.
The school already has excellent infrastructural facilities and expansion is going on for making them more. Besides , the teaching faculty is relentlessly motivated to make all out efforts to generate creativity, confidence, ethical values, decision making capability, quick initiative taking qualities in the student community. Though the task is challenging, I am glad to state that teaching faculty and management have always endeavoured to turn this challenge into an opportunity to bring out on the surface the hidden talent in every individual student. I would also like to appreciate the untiring efforts and support rendered by all prospective parents who are always with us in our ongoing journey towards excellence. The school has now become the most sought after target for educational pursuit up to Senior Secondary level.
The school objective is to prepare academically as well as to create self-confidence in them to face the upcoming challenges in life with a positive out look. At MES Central School, we help the children to tap their hidden potential by exposing them to ample number of opportunities and innumerable activities. The CCE pattern envisaged by CBSE also helps them to rise above and conquer heights of success . In addition to this, children are trained to learn more by doing things themselves and trying out new ideas, taking failure and success in their tread, with all their potentials focused on their target of attainment. I have every hope and belief that Senior Secondary MES Central School Puthanathani is going to become a leading institution and is going to blaze a trail of its own in the near future, adequately fulfilling the educational aspiration of the parents who bring their children to its corridors.
K. Unneenkutty Chairman
(Senior Secondary MES Central School, Puthanathani)
SECRETARY'S DESK
Day by day, never ending changes are occurring in the field of education. The classical concept of an educational institution has been substituted by the most modern pedagogic ideas and technologies. M.E.S. Puthanathani, right from its birth in 1993 has never hesitated to dispell the outdated methods and to install the most modern systems.
Even though we had a very humble beginning in a rented building with only one teacher and seven students, we gradually acquired all facilities that is essential for an ideal institution. Sincere and selfless service of the members of Puthanathani M.E.S. Unit, unfailing directions from M.E.S Kerala State Committee and M.E.S. School Education Board, timely help from friends and well wishers, the hard work of staff, students and parents and above all, the grace of God, made us to conquer these heights.
At present I am very proud to say that Senior Secondary M.E.S Central School, Puthanathani has become one of the remarkable schools in Malappuram district with all modern facilities that will help the desirable physical, intellectual, emotional and moral growth of children. In curricular and co-curricular areas we gained many enviable achievements.Now after decades of hard work, when turn back I am very happy to be a part and parcel of a noble institution which gives light of knowledge to the future generation. Let me take this opportunity to sincerely thank all noble souls who were our fellow travellers in this noble journey.
Thank you
C. Chekku Haji
Secretary
PRINCIPAL'S MESSAGE
No man who worships education has got the best out of education.... Without a gentle contempt for education no man's education is complete. G.K. Chesterton
Education imparts to people the skills and knowledge essential for any form of work. Truly speaking, school has a mission to ignite the minds of young and make them aware of the possibilities in the world around them. Moreover, as the world become increasingly reliant on new technology, lifelong learning will become an integral part of our lives to upgrade our skills as well as potentialities.
According to UNESCO, "educational quality must be seen in the light of how societies define the purpose of education. The purpose of education is to ensure that all pupils acquire the knowledge, skills and values necessary for the exercise of responsible citizenship, to ensure the cognitive development of learners, to nurture the creative and emotional growth of learners, oppose discrimination against any particular group in any manner or, in other words, lead towards an equitable society.
We are living in the age of technology. Technological advances are necessary for students, teachers and schools to compete in today's world. While traditional teaching methods have played an important role in our education system, with the introduction of CCE by CBSE and the advent of Computers, Smart class rooms etc. the landscape has changed entirely. Therefore, NCERT in its National Curriculum Frame work, directs that teaching should aim at enhancing children's natural desire and strategies to learn. Knowledge needs to be distinguished from information, and teaching needs to be seen as a professional activity, not as coaching for memorization or as transmission of facts. Activity is the heart of child's attempt to make sense of the world around them. Resources available must be deployed for the sole benefit of children and thereby to grow up healthy.
MONTESSORI PRESCHOOL
Montessori education is an educational approach developed by Italian physician and educator Dr. Maria Montessori. The Montessori Method creates a well-planned and structured environment where children can pursue areas of study of their interest. In other words, the child directs his own learning.
By allowing a child to lead, you tap into his potential for learning. Just as we find it easier to learn about things of interest to us, a child finds it easier to learn about subjects of interest to them. That's not to say they can't learn about another subject, it is just harder when his mind is not primed for it.
A typical Montessori environment encompasses the following:
Freedom of movement and freedom of choice for the children.
Structure and order in the arrangement and sequence of the materials.
An atmosphere that is attractive, warm and inviting.
Materials that provide active learning experiences.
A closeness to nature and the natural world and activities and materials that reflect the reality of life, not fantasy.
The main purpose of a Montessori school is to provide a carefully planned, stimulating environment which will help the child develop an excellent foundation for creative learning. The specific goals for the children who attend a Montessori school are presented below.own learning.
Develop a positive attitude towards school.
Help each child to develop a self confidence.
Assist each child in building a habit of concentration.
Foster an abiding curiosity.
Develop habits of initiative and persistence.
Foster inner security and sense of order in the child.
The Montessori Method of education is perhaps, the mostly accepted system of child education for age group 0 – 10 years of children. This method is designed so that the impetus of holistic development comes from the child himself. The child is the centre of education and the teacher is a guide and observer in the process of learning. The Montessori System recognizes the crucial importance of a child's first six years of development. It is during this time that a child's power of absorption is highest and the lifelong attitudes and patterns of learning are firmly formed. Children in this stage are to be respected as different from the adults and as individuals who differ from each other. The child in this stage possesses an unusual sensitivity and intellectual ability to absorb and learn from the environment that is unlike those of adult both in quality and capacity.
GENERAL RULES AND REGULATIONS
All the pupils should report before 9.40 am, those come late ie. 9.45am will be admitted to class only with permission of principal.
Perfect silence is to be observed and strict discipline maintained in the class and campus after the bell.
Every pupil should take part in the co-curricular and extra curricular activities.
Pupil should not wear costly ornaments while at school.
Only Required Quantity of food need to be brought to the school in order to avoid wastage of food.
Damages if any caused to furniture ,toys etc will be made good at the expense of the pupil responsible.
Speaking English is compulsory at the school, in the school bus and while waiting at the bus stop to board the bus.
Students should obey the teachers and school authorities in all matters, and are required to follow any any instructions that be given by the school authorities.
No students shall leave the school premises during working hours without the permission of the principal.
No books (other than text and library books),news papers or periodicals may be brought to the school without the principal's sanction, else they will be confiscated. The same holds for other things like transistors ,cameras, mobile phones and electronic equipments.
Pupils should keep the class room and school premises absolutely clean
Playing inside the classroom is prohibited.
Students afflicted by infectious diseases must complete the quarantine period before rejoining school .This should be indicated in medical certificate
80% of the attendance is must for promotion to the next class.
Every pupil must have copy of the School Diary which should be brought to school everyday
Prepare for each class ; take appropriate materials and assignments to class.
Behave in a responsible manner ,showing regard for authority ,always exercising self decipline.
Demonstrate courtesy,even when others do not.
Respect the rights and privileges of students,teachers and report information to school that may jeoparadise others safety.
LEADING PRINCIPLES
LEADING PRINCIPLES
The school stands to: help each and every student achieve their full potential. It is not just about passing exams but getting the most out of everything they do and feeling that they belong.
Create an environment where all recognize the value and virtue in other members of society.
Cultivate the quality of considering the needs of others and respect their right.
Believe in the importance of clear and fair rules and sanctions to discourage harmful behavior.
Create an environment where teachers, parents and other staffs work together to make the most of the student's opportunities and to support them through the difficult times.
Instill in the young minds the values as optimism and securilism and service to poor.
Aim to foster in our children certain basic values as respect for other responsibility, solidarity, creativity and integrity.
Emphasizing in cultivating good qualities like co-operation, goodwill, tolerance, forgiveness and honesty in order to encourage universal brotherhood and to prepare worthy and ideal citizens of the country.
Focus on the enlightenment of head and heart, illumination of consciousness for all-round development of individual personality.
Concrete the greatest possible harmony, internal and external potentialities and capabilities.
Impart an education which brings about a social transformation and enhance greater efficiency and productivity in all sectors.
CO-CURRICULAR ACTIVITIES
CBSE system of education provides ample opportunities for the personality development of children. 30% of periods are set apart exclusively for co-curricular activities. The in-born talents of students in Sports, Games, Arts, Literature etc. are promoted in the way it deserves.
The school has different kinds of Co-curricular activities aimed at the harmonious development of the children. Students are exhorted to participate in these activities.
.
The following are some of the important Co-curricular activities of the School.
.
Mathematics Club
Literary Club
Science Club
Quiz Club
Nature Club
Sahithyasamajam
Moral Club
School Club
Health Guidance & counseling
Sports & Games
Band, Scout & Guides
Karate & Yoga
Oratory Club
Philately Club
Dance & Music
Work Experience
Picnic & Excursion
School Magazine
ABOUT SENIOR SECONDARY COURSE
ABOUT SENIOR SECONDARY COURSE
The admission of senior secondary classes will be on the basis of grades secured in the qualifying exam.
The subject cominations available are:-
Physics, Chemistry, Biology, Maths & English.
Physics, Chemistry, Maths ,Computer science & English
Business studies, Accountancy, Eccnomics, Computer Science/Maths & English.
SCHOOL UNIFORM
All students are required to wear the prescribed school uniform in the campus and during journey from home to scool and back to home.Details of school uniform are given below.
| Pre-primary mont | Double coloured T-shirt and Burmudas in MES purple sndal with school monogram.Brown shoes,Brown shocks and MES school bag. |
| --- | --- |
| Mont Grade I-III | |
| | Boys | | Girls |
| --- | --- | --- | --- |
| Grade IV to VII | Half sleeve shirt in MES stripes & Full Trousers in MES grey.(no Tie) | Grade IV to V | 3/4 Sleeve shirt in MES stripes and loose full trousers & Coat in MES grey.(For Muslim girls Mafta in MES Grey) |
| Grade VIII to X | Half sleeve shirt in MES stripes & Full Trousers in MES grey and Tie | Grade VI to X | 3/4 Sleeve Churidhar Top in MES stripes and loose full trousers & Coat in MES grey.(For Muslim girls Mafta in MES Grey) |
| Grade XI to XII | Full sleeve shirt in MES stripes & Full Trousers in MES grey and Tie | Grade XI toXII | 3/4 Sleeve Churidhar Top in MES stripes and loose full trousers & Coat in MES grey.(For Muslim girls Mafta in MES Grey) |
UNIFORM ACCESSORIES
Particulars
Class
Section
Leather belt -Black shade socks-MES Gray
IV - VII
I-XII
Boys
Boys & Girls.
Shoes-Black shade of MES selected pattern
I-XII
Boys & Girls
Chappal -MES Pattern
Mont.jn-XII
Boys & Girls.
Tie-MES Selected Patterns
VIII-XII
Boys
Tie-MES Selected Patterns
IV-VII
Boys & Girls
ABOUT PTA MANAGEMENT
All parents /Guardians and school managing committee members are members of the Parent Teacher Management Association of the school. The PTMA will advice and suggest the ways and means for betterment of the education imparted for the progress of the school .PTMA will foster cordial relationship among the parents ,teachers and management for the smooth running of the school .All of the members of PTMA are bound to obey the decisions of PTMA, approved by SMC ,amd regulations of the school.